*This post may have affiliate links, which means I may receive commissions if you choose to purchase through links I provide (at no extra cost to you). As an Amazon Associate I earn from qualifying purchases. Please read my disclaimer for additional details..
For many dog owners, providing a safe, happy life for their canine friend is their number one goal. Part of this process usually includes buying them sometimes costly beds, but are dog beds really necessary?
Do Dogs Need a Bed? Well, yes! Most dogs do need a bed but not every dog bed is created equal. Many dog beds provide a soft cushion for dogs to rest that not only helps their joints and muscles, but also helps them to feel safe and secure. Beware, however, not every dog bed is the best choice for every dog.
There are different types of dog beds that offer different features that may or may not be right for your specific dog.
Thankfully, with all the options available and the information provided here, you will easily find the one that fits your dog's needs.
Why Do Dogs Need a Bed?
Dogs really enjoying sleeping and can sleep up to 18 hours each day!
Dog beds help support a dog's joints, bones, muscles, and health during those long hours. A better sleep means your dog will be smarter, healthier, and even have a better memory!
The better sleep a dog gets thanks to a comfortable bed, means they will be well rested and ready to take on the day, whatever is left of it anyways.
This is especially true for dogs as they get older because they tend to suffer from joint issues like arthritis and hip dysplasia.
If they have to sleep on a hard, uncomfortable surface, it will only make their joint issues worse than they already are.
Do Dogs Need a Bed in Their Crate?
Young dogs that are still potty training do not necessarily need beds in their crates, unless you plan on cleaning them daily.
Adult dogs that are fully potty trained do need a bed in their crates. A dog bed in the crate will make your dog feel more at ease and significantly more comfortable.
Crates naturally create, at the least, a small measure of stress for most dogs. A comfortable bed helps dogs fall asleep faster than having to rest on a cold, flat surface.
The hard plastic flooring in crates puts unneeded pressure on joints and is horribly uncomfortable for dogs.
What If My Dog Chews Up Beds?
Some dogs are chewers by nature and cannot help but want to destroy their dog beds.
If this is your situation, consider a dog bed that is made especially for chewers. These dog beds will have thick, durable covers that deter chewing.
If for some reason chew-resistant beds are not match for your dog, then you may have to consider either no bed for the time being or using a thick blanket instead. Wait a few months and try another durable dog bed in the future.
Can a Dog Sleep on a Cat Bed?
Small dogs can sleep on cat beds because they are made similar to small dog beds. Cat beds often have higher sides and sometimes even a cover on top to allow cats to 'hide' inside.
Larger dogs would have a harder time sleeping on a cat bed due to its smaller size, but they may not stop them from trying of course!
What Type of Dog Bed is Best?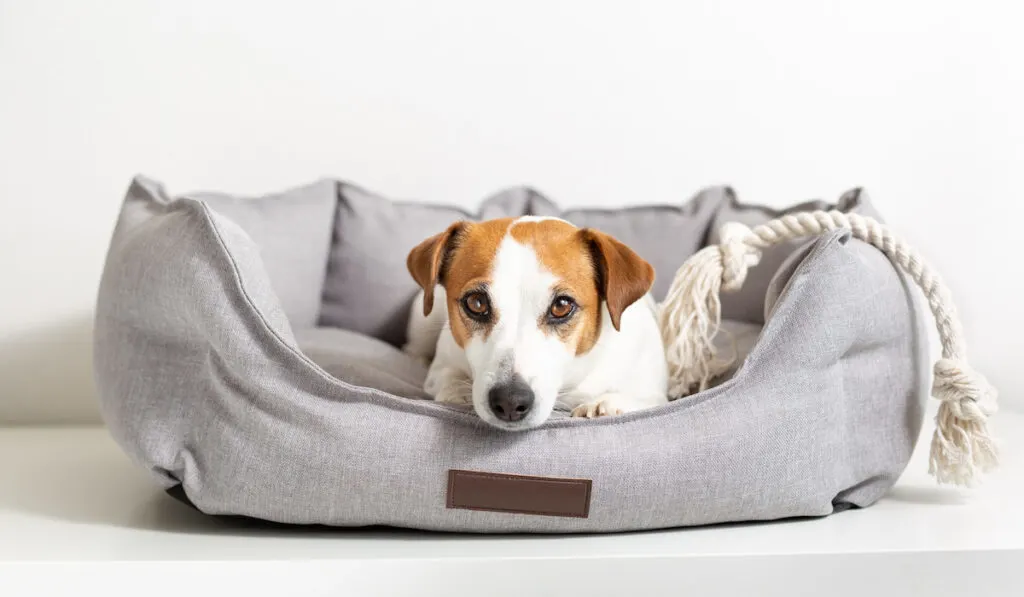 The best type of dog bed depends mainly on your dog and its preference or needs. Each bed can feature a variety of comfort combinations that make it ideal for specific dogs.
Orthopedic Foam Dog Beds
Dog beds with orthopedic foam are designed to help support the joints, muscles, and bones in your dog's body.
These beds are the best options for older large dogs that tend to suffer from joint ailments. These beds are great for all dogs and will support their bodies as they age.
Cuddler Dog Beds
Cuddler dog beds are those that have larger sides that almost cuddle the dog and help keep it warm and give them a feeling of security. These are bed for dogs that like to curl up when they sleep and those they need a little extra comfort.
Flat Dog Beds
Flat dog beds are ones that are rectangular-shaped and have no high sides. These beds are great for dogs that like to sprawl out when they sleep, especially larger dogs.
Chew-Resistant Dog Beds
Chew-resistant dog beds are designed for dogs that tend to chew up their bedding. They feature thick, durable coverings that stop dogs from easily chewing through the bed.
Crate Dog Beds
Crate dog beds are designed specifically for use in dog crates and kennels. They are flat and sized to fit perfectly in dog crates and are not very thick so they do not take up too much room in the crate.
9 Awesome Dog Beds for Your Canine
There are a variety of dog beds on the market today and at least one or more of these beds could be the right one for your dog.
Consider your dog's age, size, chewing habits, sleeping habits, and health issues when selecting its new dog bed.
1. Amazon Basics Warming Pet Bed
If you are looking for a basic cuddler dog bed to start out with, this is a great cost-effective option. It is sized for smaller dogs and has a soft Sherpa covering that helps keep dogs warm. This makes it a great choice for short-haired dogs that struggle to maintain their body heat but it is a good option for long-haired dogs as well.
Sale
Amazon Basics Self Warming Pet Bed For Cat or Dog
Plush self-warming pet bed for a cat or small dog; no electricity required
Includes a pet bed made with the same technology as self-warming mylar "space blankets"
Interior fill layer effectively retains and reflects a pet's body heat
Covered in faux sherpa fleece and supple corduroy
Flat, textured base helps keep the bed in place on smooth surfaces
2. Pet Craft Supply Super Snoozer Dog Bed
This snoozer dog bed is a great choice for larger dogs but it does not break the bank. It is made for both indoors or outdoors and has a chew-resistant cover. It is a soft bed that lets larger dogs sprawl out or curl up, depending on their preference.
Pet Craft Supply Super Snoozer Calming Durable Dog Bed
INDOOR OR OUTDOOR USE: UV treated, fade-resistant polyester with a water-resistant finish, wicks water away for longer-lasting use. Makes the perfect outdoor dog bed for large dogs. Ideal for camping, road trips, patios and any outdoor or indoor spaces
SUPPORTIVE & COMFORTABLE: Extra padding provides superior comfort and support, while the durable channeled liner helps keep the stuffing in place. Looking for dog beds for large dogs? Look no further than the Super Snoozer Indoor and Outdoor Dog Bed
PREMIUM QUALITY: This bed is built to last with its durable materials and high-quality construction. This is one tough dog bed. Perfect summer outdoor bed and pairs well with any elevated dog beds or cooling dog bed, large dog crate or dog house
3. Serta Ortho Cuddler Pet Bed
This super soft pet bed features an orthopedic foam that helps take the pressure off your dog's joints. It is a great option for dogs that like to curl into a ball when they go to sleep. The high sides cuddle to your dog and makes them feel extra safe and sound.
Serta Ortho Cuddler Pet Bed, Mocha
Pressure-relieving ortho foam provides superior comfort and support
Perfect for pets who curl up while they sleep
High quality pet bed made with upholstery grade fabrics
Assembled in the US with 100% CertiPUR-US foam
Machine washable cover features non-skid bottom
4. Furhaven Rectangular Bed
This bed is ideal for larger dogs that like to stretch out during their sleep. It is flat with no sides to keep them comfortable but cool while they snooze. It features an extra relaxing orthopedic foams that helps alleviate joint pain. This one also comes in a ton of different colors, so you can find the right one for your dog.
Furhaven XL Orthopedic Dog Bed Ultra Plush
DESIGNED FOR PETS: The classic pet bed mattress design gives both dogs and cats plenty of room to sleep in a variety of different positions, with the gusseted sides providing additional cushioned loft for enhanced nestling and lounging comfort
SLEEP SURFACE: The main sleep surface is lined with thick, cuddly soft, plush curly faux fur that is gentle on noses and paws for enhanced snuggling comfort
EASY ON JOINTS: The egg crate orthopedic foam mattress helps distribute body weight, cushion pressure points, and improve air circulation to help ease discomfort and encourage restful sleep
5. Calming Donut-Shaped Dog Bed
This cuddler donut-shaped dog bed is perfect for smaller dogs that suffer from anxiety or just get a little scared when by themselves. Dogs can snuggle in for a cozy sleep and feel secure in their environment. It is also machine-washable, which is an added bonus.
Calming Dog Cozy Soft Round Bed
【HIGH-QUALITY MATERIALS】The pet calming dog bed is made of durable luxurious faux fur. The interior is filled with super-soft environmentally friendly PP cotton. It has always provided soft support for the pet, which relieves the pet muscle and joint pain
【COMFORTABLE SLEEP】This dog donut cuddler bed has a circular design, surrounded by bulges around the cat, which is very suitable for pets who like to curl up. The dog round bed provides a full sense of security for your pet.
【SUITABLE SIZE】Three sizes are available for your choice. We recommend a 20-inch dog bed for small dogs (up to 11 pounds), a 24-inch dog round bed (up to 25 pounds), and a 27-inch dog calming bed (up to 35 pounds), it is recommended that you measure the size of your pet before buying.
6. Western Home Crate Bed
These dog beds are ideal for using in crates as they are made to fit different size crates. They are rectangular and offer foam support, but are also not too thick to make sure your dog still has adequate room move around the crate. It is waterproof in case of accidents and slip proof so it does not slide in the crate.
Western Home Crate Bed
🐕‍🦺 【GREAT CRATE BED】The dog bed is fit for long dog crates to improve pet comfy. The dog crate bed also works great as a stand-alone dog bed. Allow pets to move to where they want.
🐕‍🦺 【SOFT & COMFORTABLE】Ultra-soft plush synthetic fur pet bed is filled with 1.2 inches high-elastic foam the dog crate pad creates irresistable softness for your four-legged friends to sleep like a log every night.
🐕‍🦺 【SIZE GUIDE】M size 30 x 19 x 1.2 inches dog bed fit for medium dogs weighing less than 40 pounds, L size 36 x 24 x 1.2 inches dog bed fit for large dogs weighing less than 60 pounds, XL size 42 x 28 x 1.6 inches dog bed fit for extra large dogs weighing less than 90 pounds. Please kindly measure your dog before purchasing.
7. The Dog's Bed Premium Waterproof
If your dog is a chewer, this is the bed you need. It is waterproof, comfortable, and super tough to withstand chewing. It features a removable and washable cover.
Sale
The Dog's Bed Utility Waterproof Dog Bed
Utility dog bed in large grey with ZZZZZ embroidery design, easy-clean cover and tough YKK zippers, 39.5 x 27.5″ which fits home decor seamlessly, so your dog can stay close to the family while having a nap
Perfect for use in crates, kennels, yard and in the home. Lightweight and easy to travel with – can be taken along on a road trip in the back of a SUV
Tightly woven polyester Oxford fabric with a waterproof coating on the underside resulting in a bed that is water-resistant, quick-drying, and abrasion-resistant. Dries rapidly on wash day and stays looking new for longer
8. Pet Fusion Ultimate Dog Bed
This waterproof dog bed has a memory foam center that support your dog's orthopedic health. It is firm, but soft enough that your dog will be extra comfortable. It has soft, lifted sides that provide a pillow for your dog to lay its head on as it sleeps.
PetFusion Ultimate Dog Bed
PREMIUM COMPONENTS & BETTER HEALTH: (i) SOLID 4 inch MEMORY FOAM base for superior overall comfort, reduced joint pain (arthritis) and improved health, mobility, & energy. (ii) Calming bed for dogs who suffer from anxiety. (iii) Recycled 'green' support bolsters are generously filled. (iv) Durable & comfortable polyester (65%) & cotton (35%) twill
SMART DESIGN: (i) Base & bolsters provide optimal support & security. (ii) Water resistant & tear resistant cover. (iii) Non-skid bottom. (iv) Blends in seamlessly with your home. (v) Replacement covers available separately
PEACE OF MIND: (i) Certi-PUR-US Memory foam. NO mercury, lead, formaldehyde, phthalates, & ozone depleters. (ii) Low VOC emissions for indoor air quality. (iii) Passes stricter European REACH safety standards.
9. Casper Dog Bed
Finally, a dog bed for your canine companion that is as good as your own mattress. The Casper dog bed features a breathtaking, relaxing, memory foam interior with a removable cover. It has a soft layer on top for dogs to maneuver around as they wish to make the perfect sleeping spot. It has elevated sides for your dog to rest its head against.
Sale
Casper Dog Bed
Pressure-relieving memory foam and durable support foam to create a bed that loves Fido back
Excess material on top for dogs that like to dig and scratch to make the perfect sleeping spot
Supportive foam bolsters on the mattress create a safe space for dogs to lay their heads
Microfiber blended material designed to be durable and rip-resistant
Removable and machine washable cover that's impenetrable to fur slobber-resistant
Final Thoughts
Finding the best dog bed for your dog may take a little contemplation, but with the right considerations, you should be able to easily choose the bed that is right for your dog.
Almost every dog will enjoy sleeping in a bed, even if they do not sleep in it all the time. It will help keep their joints supported so that they get a full night sleep.
Resources:
Finding the best dog bed for your puppy is easier than you may think. Here are the resources that I used to write this article.