*This post may have affiliate links, which means I may receive commissions if you choose to purchase through links I provide (at no extra cost to you). As an Amazon Associate I earn from qualifying purchases. Please read my disclaimer for additional details..
Is your new dog incredibly sweet? Does s/he remind you of your favorite dessert? Do you want to find a name that fits her perfectly?
Finding a great dog name isn't always easy but, if you want to name your puppy after your favorite sweet treat, this is just the post for you!
Here are our favorite dessert dog names.
Top 10 Dessert Dog Names
Sundae
Mousse
Cupcake
Soufflé
Toffee
Muffin
Cookie
Brownie
Oreo
Pudding
Ultimate List of Dessert Names
Affogato
Almond
Angel
Apple
Basque
Beignet
Belle
Berry
Biscotti
Biscuit
Blueberry
Bombolone
Brandy
Bredele
Breton
Brownie
Brulee
Bruttiboni
Budino
Bugne
Butternut
Butterscotch
Calisson
Candy
Candy Cane
Canelè
Cannoli
Caramel
Caramella
Cashew
Cassata
Cavallucci
Cheesecake
Cherry
Chip
Choco
Chocolat
Chocolate
Chocolate Pudding
Churro
Chutney
Cinnamon
Clafoutis
Coco
Cocoa
Coconut
Cookie
Cranberry
Cream Puff
Crepe
Croquembouche
Crostata
Crème Brulèe
Crème Caramele (Caramel for Short)
Cupcake
Custard
Donut
Doughnut
Dove
Dumpling
Eclair
Eggs
Espresso
Figs
Financier
Flapjack
Fondue
Fraisier
Fritter
Frosting
Fudge
Fudgsicle
Ganache
Ginger
Graham
Granola
Gugelhupf
Gumdrop
Helene
Hershey
Honey
Ice Cream
Icing
Jams
Jasmine
Jello
Jelly
Joy
Licorice
Macaron
Maple
Marmalade
Marshmallow
Marzipan
Madeleine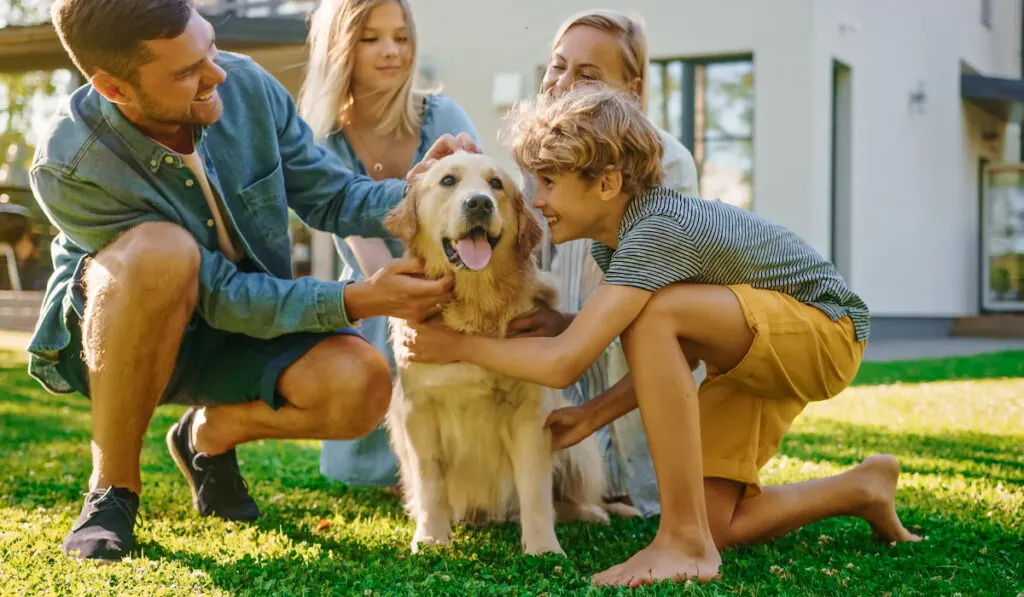 Mendiant
Meringue
Mille
Mint
Mocha
Mochi
Molasses
Mont Blanc
Morsels
Mousse
Muffin
Nougat
Nugget
Nutella
Nutmeg
Oats
Oreo
Palmier
Pancake
Pandoro
Panettone
Panna Cotta
Parfait
Pasqua
Peach
Peaches
Peanut
Pecan
Petit four
Pistachio
Poppy
Praline
Profiterole
Pudding
Pumpkin
Raisin
Raspberry
Rosemary
Rum Baba
Ruth
Scotch
Semifreddo
Sfogliatella
Shortcake
Smores
Snickerdoodle
Snickers
Soufflè
Sprinkles
St Honorè
Strawberry
Strudel
Struffoli
Sugar
Sundae
Sweetart
Taffy
Tamale
Tart
Tarte
Tartufo
Tatin
Timballo
Tiramisu
Toffee
Tootsie
Truffle
Truffles
Twinkie
Twizzler
Vanilla Bean
Velvet
Waffles
Walnut
Yogurt
Zabaione
Zeppole
Zuppa
Éclair
Dessert Names for Girl Dogs
Do you have a super sweet girl? Does your dog surprise you every day with how sweet she is? Luckily, finding the perfect dessert name for your female dog is pretty easy.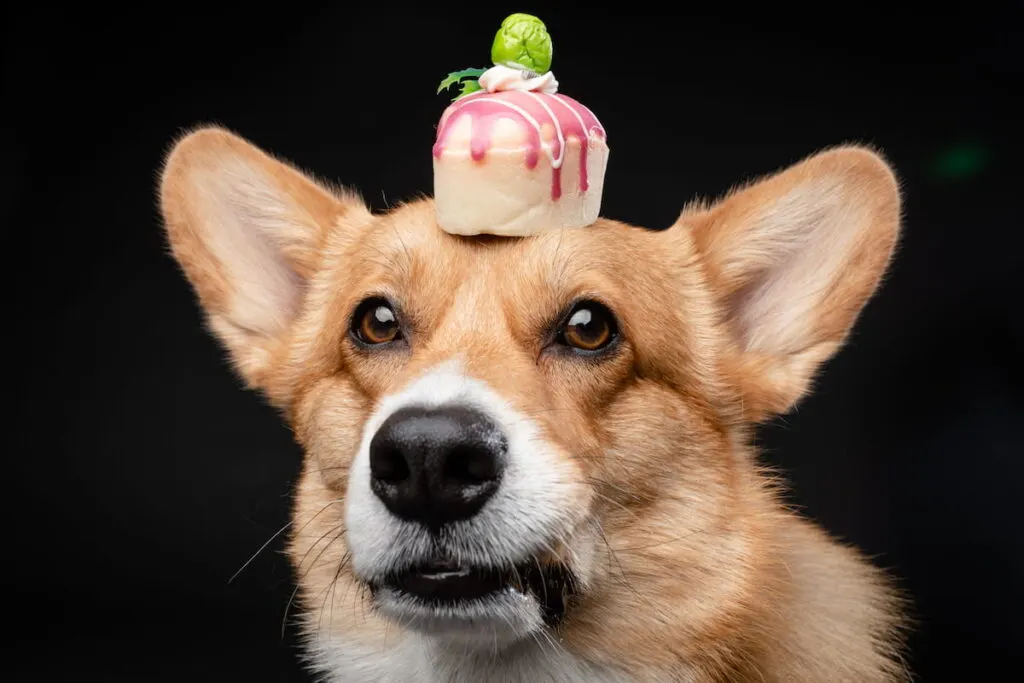 Here are some great dessert names for female dogs:
Cocoa – Like cocoa-flavored anything!
Coco – a variation of cocoa or, just a reminder of how awesome coconut is in any desert!
Coconut
Ginger – think gingerbread and gingersnaps
Sugar – cause it makes everything sweeter
Praline – like the wonderful treat
Candy – because we all love a piece after dinner
Dove – just like the wonderful chocolate treats
Taffy – like the chewy and wonderful desserts
Peach or Peaches – because they taste amazing in everything from ice cream to pies
Cherry – Cause we love them in our desserts
Caramella – Like caramel but pretty
Angel – inspired by Angel food cake (and your girl's sweet personality)
Tootsie – because who doesn't love a tootsie pop or tootsie roll
Joy – Inspired by almond joy bars
Ruth – inspired by Baby Ruth Bars
Honey – because it adds just the right amount of sweetness
Dessert Names for Boy Dogs
Brownie
Biscotti
Calisson
Cannoli
Caramel
Cashew
Chip
Choco
Churro
Custard
Flapjack
Fraisier
Fondue
Graham
Granola
Hershey
Mochi
Nougat
Nugget
Scotch
Snickers
Tamale
Tatin
Toffee
Walnut
Dessert Dog Names by Country
There are so many great languages out there and so many dog breeds originate from other countries. Perhaps you want to give your puppy a name that pays homage to his breeds origin (or maybe even yours).
Here are some dessert inspired dog names organized by country.
French Dessert Dog Names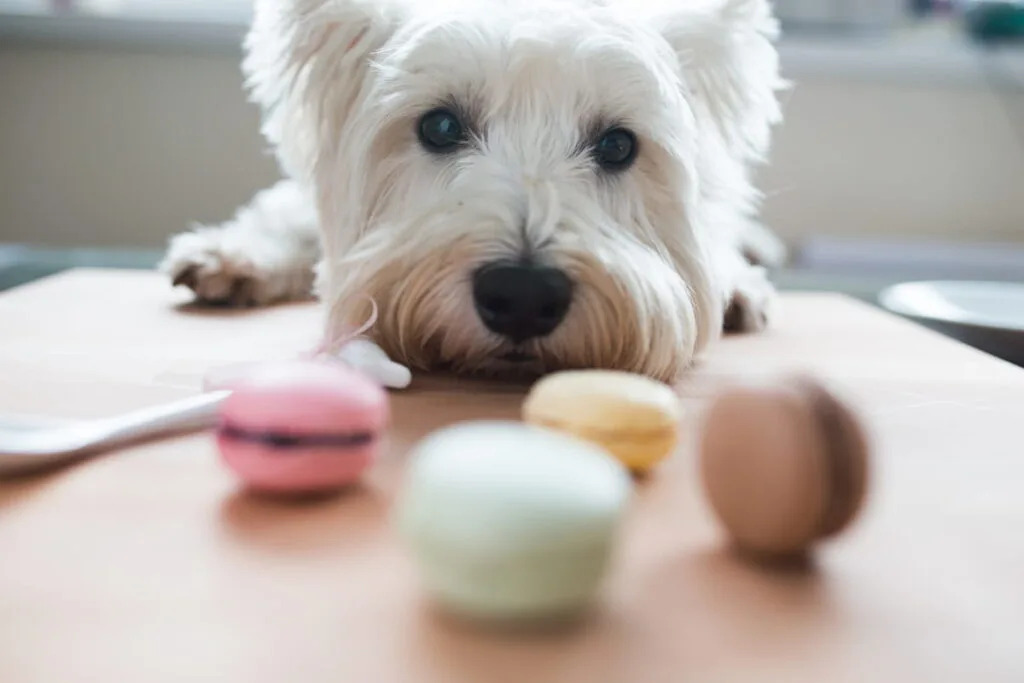 Tarte (like Tarte Tatin)
Clafoutis
Crème Brulèe
Crème Caramele(Caramel for Short)
Medeline
Mille (like Mille-feuille)
Macaron
Rum Baba
Soufflè
Croquembouche
Tart
Mousse
Chocolat
Calisson
Crepe
Canelè
Mendiant
Profiterole
Basque
Mendiant
Breton
Bugne
Meringue
Mont Blanc
Financier
Palmier
Petit four
St. Honorè
Gugelhupf
Bredele
Belle (like Poire belle helene)
Helene (like Poire belle helene)
Custard
Tatin
Eclair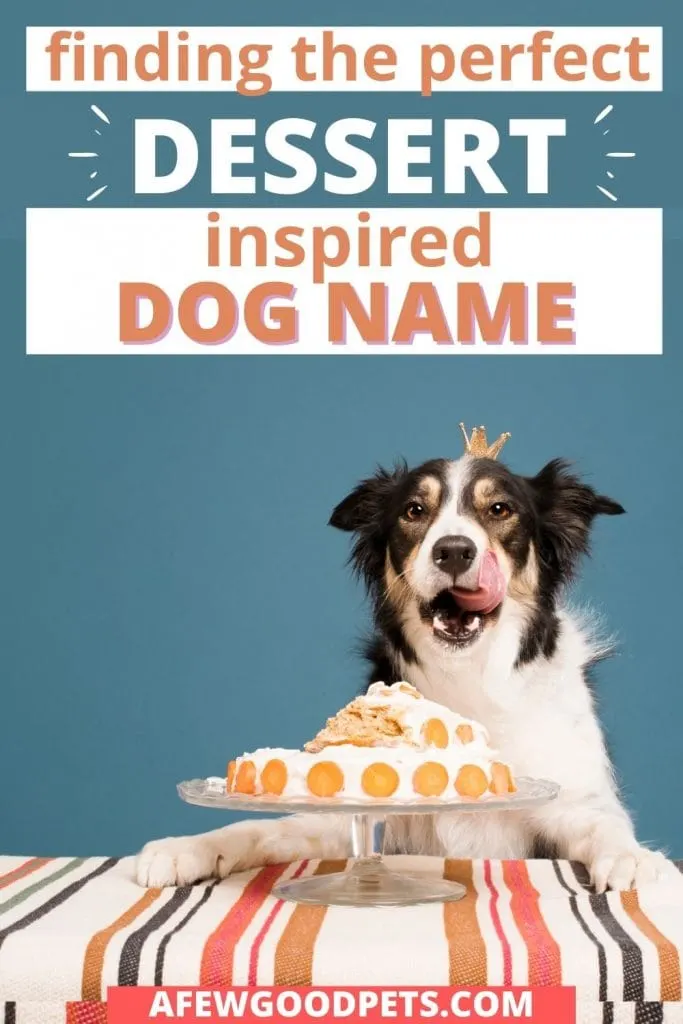 Italian Dessert Dog Names
Tiramisu
Panettone
Cannoli
Panna Cotta
Crostata
Semifreddo
Zabaione
Tartufo
Affogato
Pandoro
Cassata
Zeppole
Sfogliatella
Zuppa (for Zuppa Inglese)
Bombolone
Struffoli
Budino
Timballo
Bruttiboni
Pasqua (for Colomba di Pasqua)
Cavallucci
Dessert Inspired Dog Names by Color
I'll be the first to admit, naming a new dog is hard! Once they have a name they are truly part of the family but how to choose the right one.
Since your here, it seems like you've already narrowed down a theme for your dog's name. To help you out a bit, here are some of our top names based on your dogs color.
Dessert Names for Brown Dogs
When it comes to naming your sweet puppy, you certainly have it easy in this category if your pup happens to be brown.
Here are our top choices for dessert inspired dog names for a brown dog:
Brownie
Butterscotch
Choco like Choco Pie
Chocolate Pudding
Churro
Cookie
Custard
Éclair
Fondue
Fudge
Fudgsicle
Mousse
Truffle
Cute Dessert Names for White Dogs
White dogs are easy too! I mean, sugar is white, cream is white, frosting is white! There are so many great sweet treats that are white.
Here is a list of our top dessert names for white dogs:
Meringue
Vanilla Bean
Doughnut
Mousse
Frosting
Icing
Cream Puff
Sugar
Sprinkles
Parfait
Ice Cream
Yogurt
Coconut
Custard
Beignet
Nougat
Dessert Names for Black Dogs
Many of us have black dogs, or black dogs with brown points. Lucky for us, this color makes it super easy to find a dog name that reminds us of dessert.
Chocolate ranges from a milky white color to a light brown, all the way to a deep, dark chocolate. If one of those shades describe your dogs color, these are our top name picks:
Licorice
Chocolate
Truffle
Choco (like Choco Pie)
Brownie
Fondue
Fudge
Chocolate Pudding
Fudgsicle
Cookie
Éclair
Mousse
Custard
Dessert Names for Red Dogs
Dogs can be many shades of red, most common are what you might picture for Irish Setters or red merles as an example. The shades can range from very light to a very deep, deep red.
Here are some great dessert inspired names for red dogs:
Velvet (like Red Velvet Cake)
Strawberry
Raspberry
Tart
Donut
Sprinkle
Shortcake
Cheesecake
Cherry
Gumdrop
Candy Cane
Mint
Fraisier (like Strawberry Fraisier)
Sweetart (like the Valentines Day Candy)
Licorice
Twizzler
Cinnamon
Tamale (like Hot Tamale candies)