*This post may have affiliate links, which means I may receive commissions if you choose to purchase through links I provide (at no extra cost to you). As an Amazon Associate I earn from qualifying purchases. Please read my disclaimer for additional details..
Do you have an air fryer? Air fryers can save you from spending a lot of energy cooking. Air fryers have a lot of benefits and many have added them to their kitchen arsenal.
But wait! Do air fryers have any downside?
Some people reported that air fryers can kill birds. Is this true? Can air fryers kill birds?
A good working air fryer will not kill your bird. However, some challenges can come when your air fryer is coated with Teflon and the coating has become damaged.
How do air fryers kill birds? Can you use air fryers in a house where you keep birds? Continue reading.
The Safety of Air Fryers
Air fryers are becoming more popular, but their safety and health concerns are beginning to spread across social media as some say that they lost their birds after using air fryers.
Now the question is that if an air fryer can kill a bird, can't it harm humans?
Well, before we discuss the health concerns of air fryers, let us first know what air fryers are (as many people do not know what air fryers are).
What is an Air Fryer?
Imagine that you want crispy potatoes or ham, how would you cook it?
Your guess might be to use an oven or a deep fryer to fry the food items. An air fryer as a kitchen appliance prevents (or in most cases, reduces) the use of oil in frying food.
The principle behind air fryers is simple: Keep the food in an enclosed space and blow heat (usually 300°-400°F) from a heat source to the food item.
The use of hot air to fry food is where the name "Air Fryer" comes from. To know why air fryers are becoming more popular, you need to consider the advantages.
What Are the Advantages of Using Air Fryers Over Conventional Ovens or Deep Frying?
Here are some advantages and benefits of using air fryers over conventional ovens or deep fryers:
Saves Oil: With an air fryer, you do not need oil. To get a crispier feel, however, you may use a little layer of oil. The bottom line is that you save oil by using air fryers.
Ensures Your Safety from Splashing Oil: People who deep fry food items sometimes get hurt from splashed hot oil. You are safe when using air fryers.
Portable and Durable: Air fryers are not as large as conventional ovens, but they are more effective in giving food a crispy feel.
Considering the benefits above, I know that you may want to buy an air fryer immediately. Before you buy your air fryer, remember that there are some concerns about it.
The Toxicity of Air Fryers
When you consider the principle behind air fryers, you might wonder how it is toxic if it is simply hot air circulating around the food to make it crispy.
Well, air fryers are actually safe, but there is a part of the design that can make air fryers products that you should be concerned about.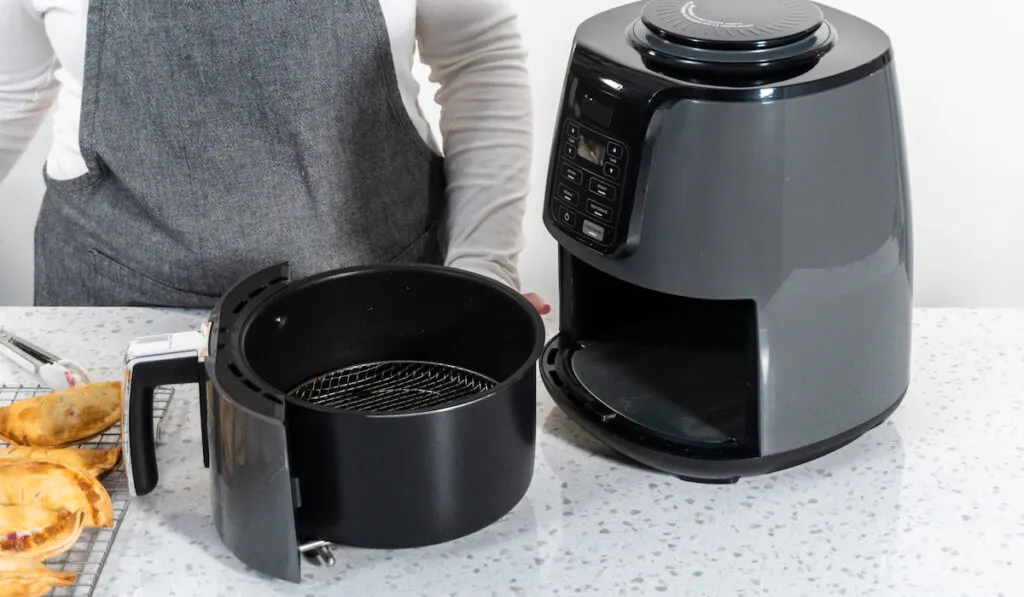 Air Fryers with Teflon Coatings Can Be Very Toxic to Birds
When considering a product that can generate heat or energy, you need to first consider its effect on the environment and also how to mitigate those effects.
For air fryers, the manufacturers know that without a proper coating, the heat generated can melt the outer walls of the appliance and might even start a fire. The manufacturers decided to coat the inside wall of air fryers with non-stick materials that can reduce the amount of heat that goes out.
One of the materials of choice that they coat air fryers with is Teflon. As you know, Teflon is a non-stick material and it also helps prevent the outside walls from burning.
One downside about Teflon, however, is that at temperatures above 350°F, it can release some toxic gases.
While we (people) do not feel any major effect of these gases in our bodies, it is not the same for birds. When we breathe, we breathe out and in with our lungs, and our lungs transport oxygen to other parts of the body.
As for birds, their lungs allow more air (or gases in the atmosphere) to enter their body. The high amount of air that goes into the body of birds makes them have less weight and allows them to fly (this is why birds that can fly are not heavy).
The toxic gases released by Teflon can harm these birds by blocking their lungs and damaging other organs.
When you analyze it well, you'd agree that the air fryer itself is not the problem. The problem here is the Teflon coating. Teflon is a popular material with more appliances and other products using it.
Other Products with Teflon Coating
Here are some products that are coated with Teflon:
Pans
Bakeware
Coffee pots
Toaster ovens
Waffle makers
Microwave popcorn bags
As you can see, air fryers are not the only appliances that use Teflon.
What You Can Do to Prevent Air Fryers from Harming Your Birds
Here are some very important tips to avoiding injury to your birds:
1. Use Air Fryers with Other Types of Coating
Not every air fryer is coated with Teflon. Here are some materials that are used as coatings in air fryers:
Ceramic-coated trays or baskets
Stainless steel trays or baskets
Bisphenol A (BPA)
Polytetrafluoroethylene (PTFE)
Perfluorooctanoic acid (PTOA)
Before you buy an air fryer, please contact the store or manufacturer to make sure that the product does not have Teflon in it. You should be very careful especially if you have birds. Some air fryers without Teflon are:
Platinum-Digital-Cooker-Recipes-Stainless
Sale
Elite Gourmet Dual Layer Digital Air Fryer
Versatility: Includes a Bonus Rack for cooking multiple foods simultaneously! You can cook fries on top and a main entree on the bottom!
Guilt-free frying lets you enjoy crispy veggie chips, fish fillets, chicken tenders and more without fatty oils. Includes a full-color booklet featuring 26 delicious and healthy recipes to get you started
6 Menu Functions and advanced touch screen technology give you the ultimate in cooking control and versatility. A high-power convection fan envelopes food in temperatures from 149 to 400 F degrees.
Cool-Touch handle lets you safely remove fried foods from the air fryer without burning your hands. A 60-minute timer automatically shuts off the elite platinum air fryer at the end of the cooking cycle
Fast, Easy Clean-up with our dishwasher safe, non-stick Coated 3. 5 quart fryer basket and 4. 75 quart pan. The exterior of the Elite platinum air fryer retains its pristine condition with just a damp cloth.
Ninja-FD401-Fryer-Stainless-Pressure-8-Quart
Sale
Ninja FD401 Foodi 12-in-1 Pressure Cooker & Air Fryer
THE NINJA FOODI DELUXE XL: The deluxe pressure cooker that also crisps.
TENDERCRISP TECHNOLOGY: Quickly pressure cook ingredients to lock in juices, then give them a crispy, golden air-fryer finish.
COOK FOR THE WHOLE FAMILY: With an extra-large capacity 8-quart ceramic-coated pot that is nonstick, PTFE PFOA free, and easy to hand-wash.
Elite Gourmet EAF-658 Electric 6.5Qt Air Fryer
Elite Platinum EAF-658 Electric 6.5Qt Air Fryer, XXL Capacity, 4.75Lbs of Food, 1700WOil-Less Healthy Cooker Timer & Temperature Controls, 26 Recipe Cookbook
XX-LARGE CAPACITY: The non-stick basket holds 6.5Qt or up to 4.75lb of food Perfect for family-sized meals. Cook faster and more safely than in oil, eliminating splatter burns and reducing electricity use.
HEALTHY EATING by cooking with 85% less oil for fat-free delicious meals. Same flavor and crispy finish without the added calories! Simply add food to the basket, add a tbsp of oil if desired, set temp/time, and start cooking!
ADJUSTABLE TIME AND TEMPERATURE dials give you the ultimate in cooking control and versatility allowing you to fry, bake, grill and roast all in one! A high-power convection fan envelopes food in temperatures from 180 to 400F degrees and a 60-minute timer automatically shuts off the elite platinum air fryer at the end of the cooking cycle.
Make sure that you use air fryers without Teflon.
2. Keep Your Air Fryers and Birds in Different Rooms Far Away from Each Other
If you already have an air fryer coated with Teflon and you do not want to sell it or give it away, you should keep it far from your birds (or keep your birds very far from it). Also, it would help if you keep your birds in a well-ventilated room.
3. Do Not Go Above 350°F
Teflon releases harmful gases at very high temperatures. Instead of using your Teflon-coated air fryer for cooking at such a high temperature, you should consider using a conventional stove or oven.
Please help keep your birds safe.
Related Questions and Answers
I know that you still have some questions. Well, here are some answers:
1. Aside from Their Teflon Coating, What Other Ways are Air Fryers Toxic?
Using the wrong type of oil can affect your health. You are at more risk when the oil you use is not suitable for temperatures over 350°F. Here are some health risks involved in using bad oil:
Stroke
Heart Disease
Type-2 Diabetes
Some recommended oils that you can use for high temperatures are:
Avocado Oil
Indian Clarified Butter (Ghee):
One benefit of air fryers is that you don't need to use oil.
2. Can Birds Eat Food Cooked with Air Fryers?
It depends on the type of food. Do not give food high in calories to your birds as they can suffer harm.
Give your birds seeds, grains, pellets, etc., and anything rich in protein. Do not give them food with oil in it as well.
3. Are Humans Safe from the Harmful Gases of Teflon?
You may inhale the gases, but you are safe as the gases cannot pass your lungs into your body (unless you inhale too much of the gases).
Birds are at more risk because their lightweight body collects air (and everything in it) quickly.
You must have found the answer to your question, right?
Final Thoughts
Air fryers are not necessarily the problem, and when you use the right product, your birds will be safe from harm.
If you have birds, you should avoid using air fryers that are coated with Teflon as it can harm them at high temperatures.
Sources